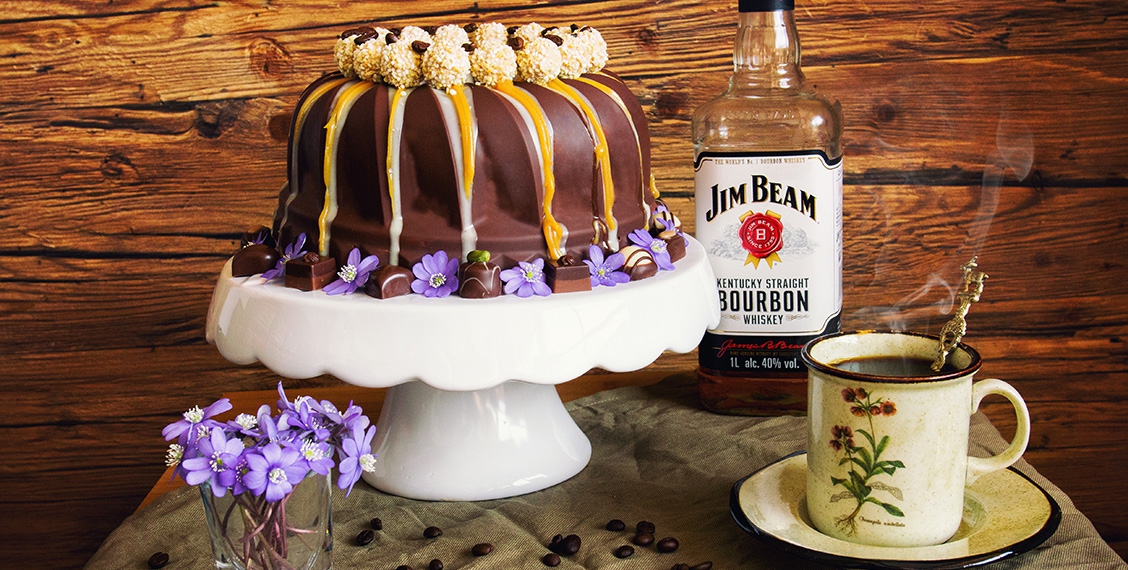 Irish Coffee Cream Gugelhupf
Whiskey, coffee, chocolate and cakes fit perfectly together and a new creation has emerged: my Irish Coffee Cream Gugelhupf.
In this cake, the self-cooked Irish Coffee Cream - which was designed not only for lovers of Irish coffee and coffee - makes for an enjoyable summit. So that I can show you that this homemade delicacy can not only be brought to the bread, I have thought of this recipe.
Just leave the decoration free - flowers from my garden, small bonbons from Lindt, Giottos, coffee beans and toffee sauce from Muh-Muh round this Gugelhupf also for the eye off.
With this deliciousness, you will be very popular with your guests. Curtain up for Lucina Cucina Irish Coffee Cream Gugelhupf …tadaaaa…
200 gr

soft butter

260 gr

sugar
1 pack

vanilla sugar
2 EL

Whiskey
2 EL
cold espresso

6 pieces

eggs
pinch

salt
310 gr

flour
1/2 pack

baking powder

100 ml

milk
50 gr
desiccated coconut

200 gr

Irish Coffee Cream

40 gr

ground hazelnuts


für die Schokoglasur:

100 gr

Lindt cooking chocolate dark

200 gr

cooking chocolate

normal

1 EL
coconut oil


1 EL means 1 tablespoon
Lucina´s Tipps:
Melting vanilla ice cream as a side dish gives the gugelhupf a very special touch.
To Irish cocoa the cake tastes very well as to coffee!
Use a SILIKON BACK FORM for this recipe!

I did it that way:


Apron, preheat the oven and ready to go!
Preheat the oven to 180 C degrees of top and bottom heat.

Grease the form with spry and dust it with flour.
Beat butter with 160 g sugar, vanilla sugar, whiskey and strong espresso foamy.

Separate eggs from yolk. Place the egg yolks individually in the butter mixture and stir in each case for about 1/2 min.


Whip egg whites with salt and whisk the remaining sugar.


Combine flour and baking powder.


With a wooden spoon alternate flour mixture, milk and egg yolk under the butter mass.

Half the dough. Mix the half of the dough with cocoa, Irish Coffee Cream and hazelnuts.

Mix the light dough with coconut chips.

Put the light dough into the shape, the dark dough on it.
Use a wooden spit or spoon to drive through the dough to create a typical marble cake pattern.

Bake in the preheated oven about 1 1/2 hours at 180 C degrees and allow to cool completely.

For the glaze melt the chocolate with the coconut oil.

Remove the gugelhupf from the mold and thoroughly clean and dry the mold.

Place the melted chocolate in the gugelhupform and pay attention that the side walls are covered with chocolate.
Now bring the gugelhupf back into the filled form again and press it vigorously but very carefully. Really very careful please!

Now place the mold completely in the refrigerator and allow to cool for about 2-4 hours.

Finally peel the gugelhupf carefully from the silicone mold and enjoy the perfect result!