Bella Italia or caribian holiday in aperol sprizz
Let yourself be refreshed!
Perfect for the next barbeque party, balmy summer evenings or as a little refreshment in between.
Bella Italia on the own terrace - Aperol-sprizz make it true!
This post will be declared based on branding and links.
What is more beautiful in the summer than spending a hot day in the hammock or in a rocking chair with a cool drink and a good book (like Kerstin King's freckles in winter, for example)? You see that too? Then treat yourself to this refreshing cooling of original Italian Aperol liqueur, fresh thyme, fragrant orange slices, frozen ice cubes and you are no longer far from Italy.
Summery lightness wins this drink through sparkling Prosecco or champagne, the azure blue sugar and the edible borage flowers, with their sweetish smell and cucumber taste still give the finishing touch. Your holiday on the terrace in the garden or on balconies can begin.
And now: close your eyes, take a sip of your cold Aperol Spritz and dream of a downtown life in the middle of Italy - glorious right?
For your personal summer elixir you only need 5 minutes and very few ingredients.
Good to know:
The name Aperol derives from French and is based on the word "aperitif"
Aperol's recipe goes back to 1919, when the brothers Luigi and Silvio Barbieri presented their creation at a fair in Padua.
The secret recipe of Aperol has not changed since then and even today this bitter liqueur with a variety of herbs, bitter orange, rhubarb, cinchona bark and gentian is produced. Meanwhile, the Aperol brand belongs to the Campari Group. (Davide Campari-Milano S.P.A., an Italian beverage company based in Milan, owns several subsidiaries and sells spirits, wines and non-alcoholic beverages worldwide in 190 countries Founded by Gaspare Campari, the developer of the original recipe for herbal liqueur and aperitif Campari, the company is named after Davide Campari, son of the founder.)
Depending on the filling, the alcohol content is 11 or 15% vol. It should be mentioned that the 15% Vol.-Aperol-bottling has been specially designed for the German market. In Italy, only the 11% Vol. Aperol was available.

Sprizz oder der Aperol-Spitzer
As in Austria the after-work beer belongs, in Veneto the Aperol splash is widespread. (I think I was an Italian in my previous life - since I can not really do anything with beer) The traditional Aperol Spritz will cook with Prosecco.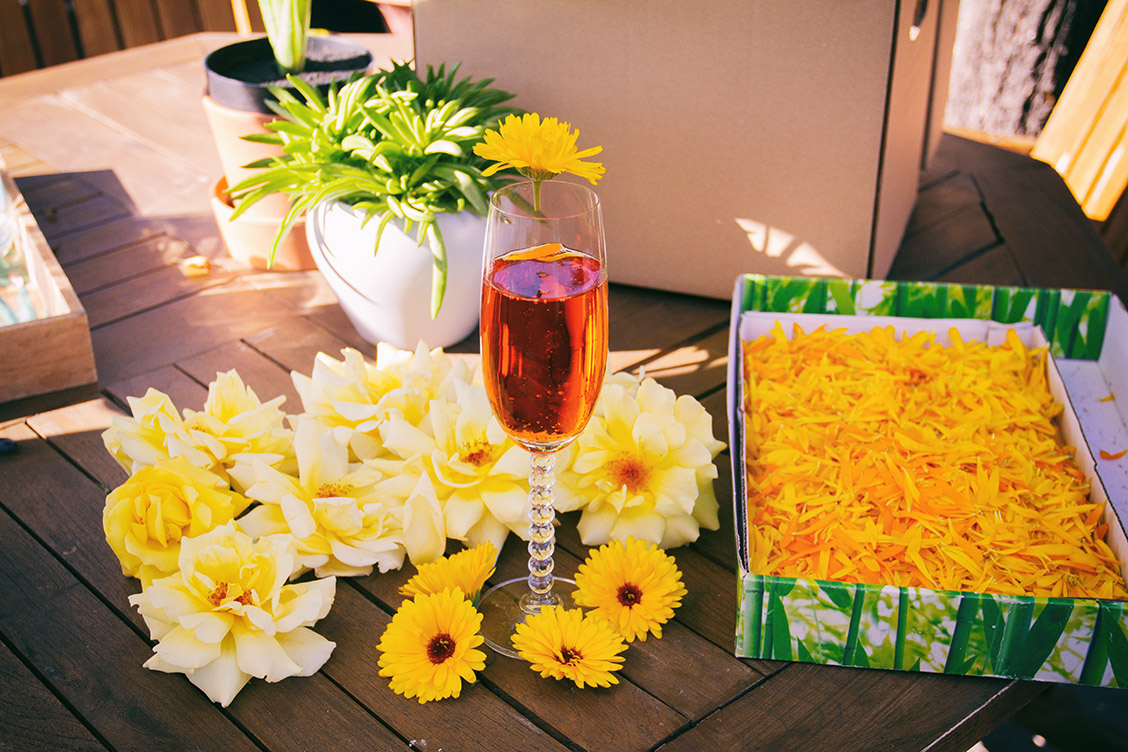 As white wine is more popular in Austria, the Prosecco is often replaced by white wine in this country. Who likes it very noble, can of course also use champagne. Due to the fruity-bitter taste, the Aperol can be processed very well to tasty long drinks and cocktails. There are no limits to the imagination!
Here is the recipe recommended by the manufacturer Gruppo Campari:
6 cl white wine or prosecco
4 cl Aperol
pinch of Soda
ice
Zur Zubereitung des Spritz alle Zutaten in ein Weißweinglas geben und rund 5 Sekunden verrühren. Mit Orangenreste dekorieren und mit Strohhalm servieren.
Unter anderem wird Aperol pur auf Eis getrunken, mit Tonic Water zu Aperol Tonic oder mit Zitronensaft und Zuckersirup zu Aperol Sour gemixt, mit einem Spritzer Wodka heißt die Variante Aperol Sour Royal. Die Variation des Caipirinha mit Aperol statt Cachaça bezeichnet man als Caipirol. Beliebt sind auch Kombinationen von Aperol mit Weißwein oder Bier. Die Mischung mit Prosecco wird als Aperol Spritz bezeichnetTo prepare the Spritz, put all the ingredients in a white wine glass and stir for about 5 seconds. Decorate with orange scraps and serve with a straw.
Among other things, Aperol is drunk on ice, mixed with Tonic Water to Aperol Tonic or with lemon juice and sugar syrup to Aperol Sour, with a splash of vodka is called the variant Aperol Sour Royal. The variation of Caipirinha with Aperol instead of Cachaça is called Caipirol. Also popular are combinations of Aperol with white wine or beer. The mixture with Prosecco is called Aperol Sprizz.


My sparkling joy in the glass of Aperol I have prepared this way:
(Incidentally, I did not know this drink - I got to know Aperol-Spritz from my friend Christian - he tasted so good that he got in between a place between my favorite drinks - and we prepare it in many different ways, ever according to your mood)



So habe ich es gemacht:


Brush the edge of the Aperol glasses (white wine glass) with honey and dip in sugar.
In the shaker, shake the cube, aperol, orange juice and syrup vigorously for about 5 seconds.
Drain through the strainer into the prepared glasses for further ice cubes.
Fill with some champagne or prosecco and serve with lemon thyme, orange slices, borage flowers and straws.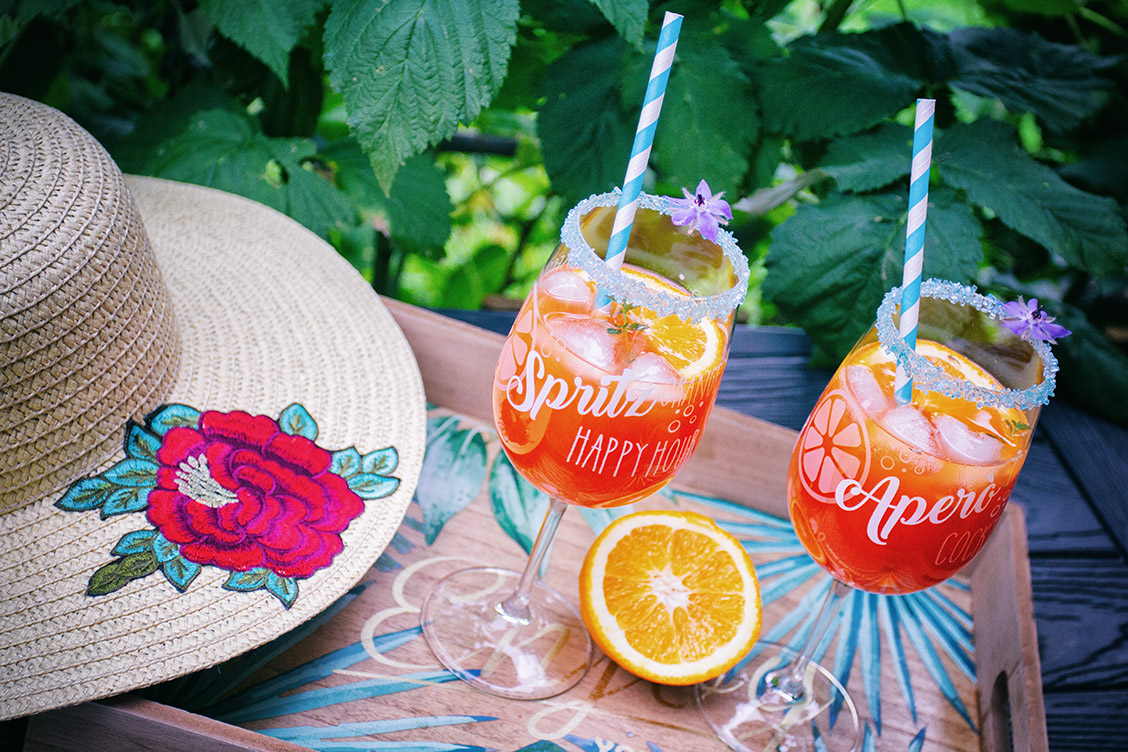 I wish you a wonderful trip to Bella Italia.