Buttery rhubarb cherry cake
Almost exactly 3 years ago, I did not even know that any rhubarb even exists and what it exactly is.
With the move to the countryside and my little cooking delusion, I was also able to get to know this wonderful vegetable.
Rhubarb ... the vegetable that is kept for fruit
I know, everyone would first rhubarb spontaneously to fruit count, as it is mainly processed into desserts such as cakes, liqueurs, jam, syrup and other things. In fact, the rhubarb is botanically seen the vegetables assigned, because not the fruit stand, but the stems are eaten. By now I know a lot about rhubarb and I can proudly say that it grows in my garden and I have already tried countless recipes with it.
As food, only the stems are processed into delicious foods. Because of the inedibility the huge leaves are thrown away mostly. I thought it was a pity and began to research in books and on the Internet, what can be done with the leaves. I found it and tried it immediately. Rhubarb leaves can be obtained e.g. excellent as a plant fertilizer use. How exactly is it possible to read soon on Lucinalife in the category garden.
As a real "countrywoman" you also like to read rural newspapers and magazines and let yourself be inspired by the beautiful pictures, the delicious recipes and so on. As I am browsing magazine in my rocking chair with relish during a coffee break on our terrace by the wonderful "my beautiful country house" (click) magazine, I discovered a cake, which appealed to me very much.
For several days I already thought about what I would conjure up from my rhubarb this year. At the same moment, my neighbor Maria came with a bucket full of cherries from her sister Magda - there it was already decided for me: I had read at the dear Patricia, Adventure biscuit (click), on the marmalade combination cherry rhubarb (click). Yes, I could make exactly this jam, but first I wanted to bake a cake. Why use this combination only in jam? I was back for a wonderful cake fragrance that runs through the house and I was particularly keen to use my vintage kitchen scales on the balcony in this sunny weather.
So this rhubarb-cherry-buttermilk cake has emerged. The recipe of "My beautiful country house" (click) I have just changed a bit to my taste. At this point a big thank you for this tasty inspiration. The most delicious I have found this butter-cream-cast - the missed this cake a very special touch. This is now a cake, which is on top of my popularity scale. But now for the recipe.
| | |
| --- | --- |
| | |
| | for the dough: |
| 4 pieces | eggs |
| 200 gr | sugar |
| 1 pack | vanilla sugar |
| 1 pinch | Bourbon vanilla cream |
| | abrasion of a BIO lemon peel |
| 250 gr | flour |
| 1 pack | baking powder |
| 250 ml | buttermilk |
| | |
| | for the covering: |
| 400 gr | sweet cherrys |
| 400 gr | rhubarb |
| 5 El | sugar |
| | a hand full almond flakes |
| | |
| | for the icing: |
| 50 gr | butter |
| 60 gr | cream |
| | |
| | you need too: |
| | Silikon-baking mate |
| | kitchen maschine or a mixer |
| | cake baking sheet (44*33*3,5 cm) |
| | cherry stoner |
| | baking spray |
| | |
Lucina´s tips:
Attention:
For me it was necessary to leave the cake after 25 min. Cover baking time so that it does not get too dark on the surface.
This is ideal for a simple aluminum foil. The harvest time of rhubarbs runs until 24 June.

Thereafter, the oxalic acid of this barley increases extremely and since this is toxic in high amounts, you should harvest before.
On the other hand, the plant must also come to rest again and store nutrients.

I did it that way:


for the icing:
Clean rhubarb, wash, peel
(it is normal that the rhubarb is green under the shell - there are many different varieties of rhubarb)
and cut into small pieces.
Sprinkle with 3 tablespoons of sugar and leave to stand in a bowl.


Wash and remove the cherries, set aside.
Preheat the oven to 200 ° C.


for the dough:
In the meantime stir the eggs, sugar, vanilla sugar, vanilla paste and lemon peel until fluffy.
Mix the flour and baking powder and stir in with the buttermilk.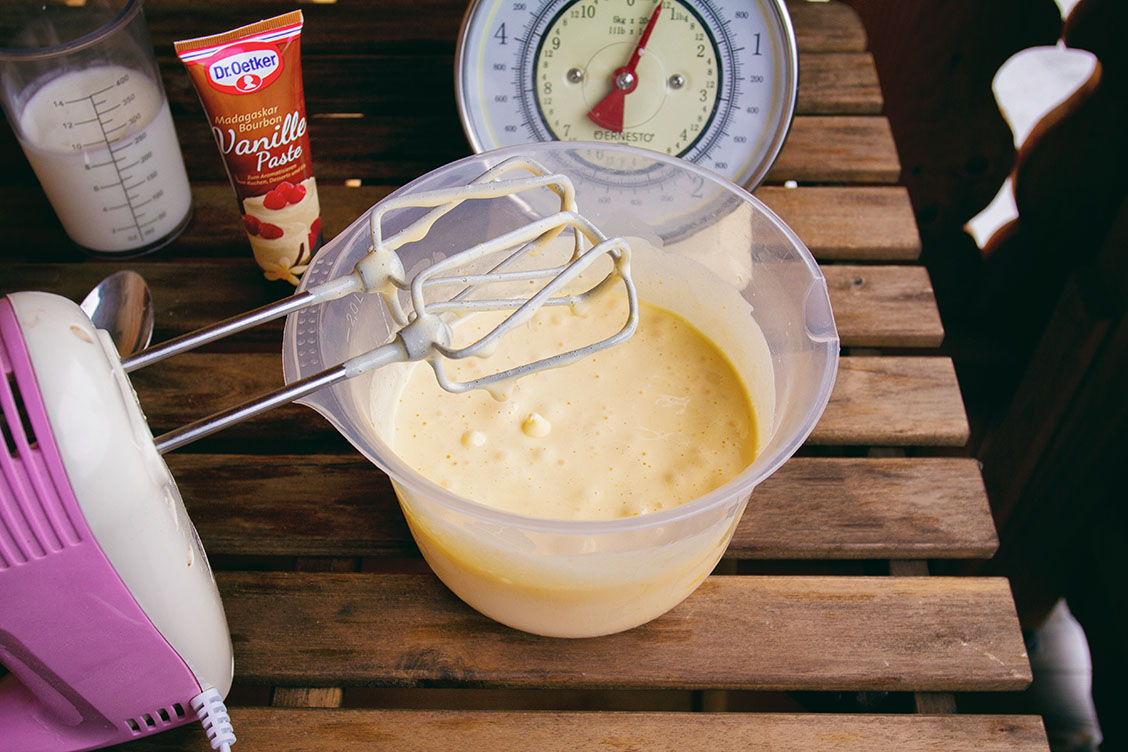 Dough on a baking sheet lined with silicone baking mat
(spray the edges of the baking sheet with baking spray)
elapse.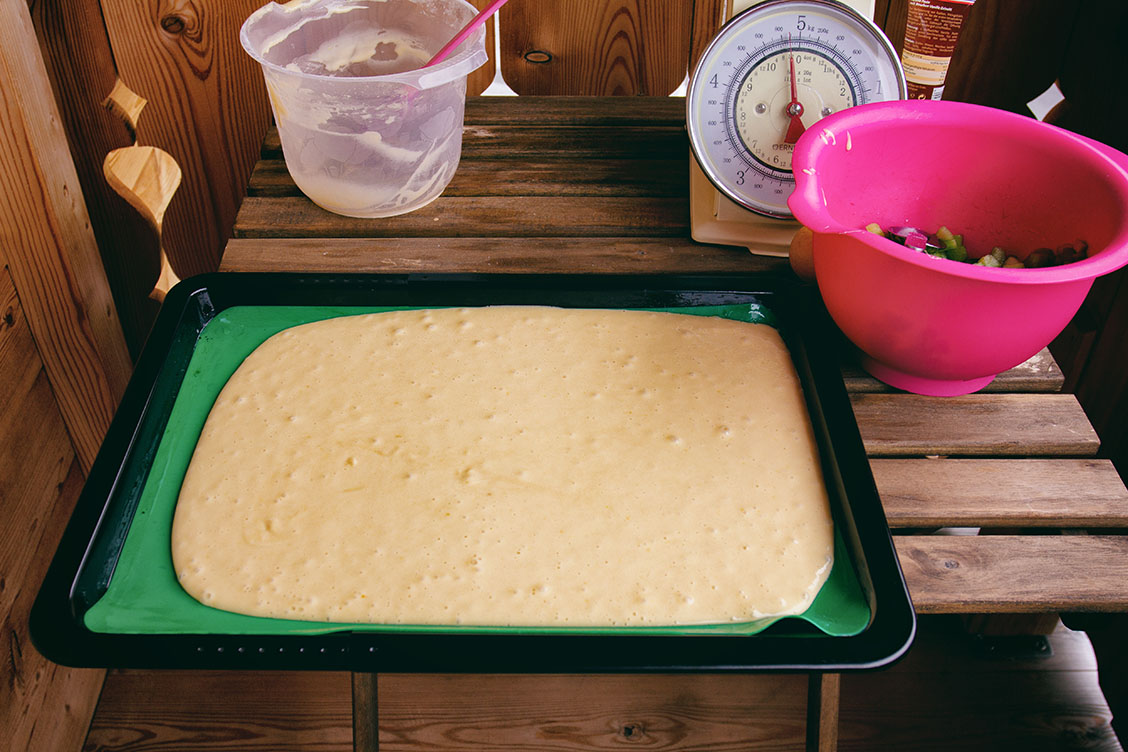 Rhubarb, strain the resulting juice, mix with cherries in a bowl.
Spread the rhubarb and cherry mixture over the dough and bake in the preheated oven for 35 minutes.

Mix the almonds and 2 tablespoons of sugar and
after about 25 minutes spread the baking time on the cake.
Attention - I have my cake after 25 min. Covered with aluminum foil so it does not burn.
But this is different from oven to oven.

for the icing:
In the meantime, briefly bring the butter and cream to a boil.
Remove the cake from the oven and drizzle immediately with the butter mixture, then let cool and enjoy.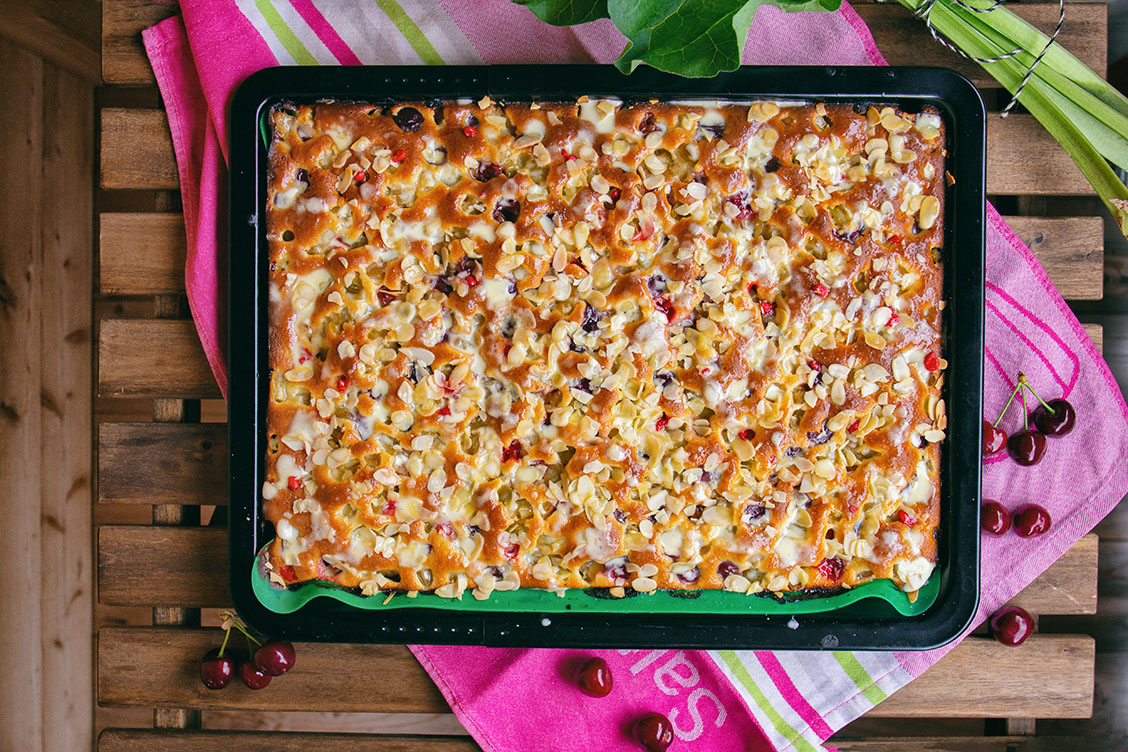 I think this cake is delicious.
If you also have a good recipe for rhubarb, I would be very happy if you write it in the comments.
I also recommend the Rhubarb Ketchup from the lovely Diana kochen.mit.Diana .
Have fun and love it!