Sometimes it really doesn't take much to be happy.
With this recipe you can also put it this way: sometimes it doesn't take much to experience Italy at home.
Many of us could not plan our vacation this year as usual and spend a few weeks under the Italian sun. But this breadsticks recipe brings Italy straight to your home.
Chips and pretzel sticks are yesterday - now home-made breadsticks are served as a snack! The taste and the wonderful scent of freshly prepared breadsticks awakened memories of our Mediterranean vanlife road trip, but also of the lovely autumn dinner with my dear friend Patricia von Abenteurkekserl. Oh, that was wonderful - this long feast with great conversations and lots of laughter! At this point: I miss you dear friend and hope to see you again soon. This time with your little son Alfred. On this occasion I might bake a new breadsticks recipe.
Preheat the oven,
because the homemade breadsticks are easy to bake and especially the homemade ones taste so much better than the ones bought. Making breadsticks is really a lot easier than you thought!
"Today it will be cross"
I heard from the living room when I unlocked the door of our apartment. "Hmm?" What does he mean ...? I thought and hurried to the living room, where a beautifully set table and Mr.Bag, who was just handing me a glass of good wine, was waiting for me. Such a pleasant surprise after a hard day's work. That was how I got to know the long, elegant breadsticks, which were given additional nobility by the real Parma ham in which they were wrapped. I took the first sip of the wine and took a bite off this bar. "Mhhh what is that? It tastes excellent "I asked curiously.
"These are breadsticks! Don't you know that, my darling? "Answered my friend, who is also half an Italian. Not only is he an excellent cook, he also knows the best recipe for breadsticks. What a beautiful invention, these breadsticks!
That's roughly how I got to know these dough sticks, respectively. Breadsticks walked. Since then, these dry, elongated and crispy breads have not been missing as appetizers when inviting friends. They have become a popular and quick snack at home.
Nibbels
We love to drink a good glass of wine, to philosophize and of course to snack. So if you are looking for a tasty and not too "heavy" snack, then the Italian bars are just the thing.
Since they have a very long shelf life, breadsticks can also be prepared and taken out again, e.g. if you have unexpected visitors or on a rainy day. On such gray days we two throw, MR. Bag and I like to dress in comfortable clothes and nibble while reading an exciting book. Yes, we also snack hard in this activity. Just recently, when it was raining a lot again, I baked breadsticks myself again. But breadsticks can actually be nibbled in almost any weather, any occasion or any time of day. Because once you start nibbling on the bars, it is not that easy to stop.
What are Grissini?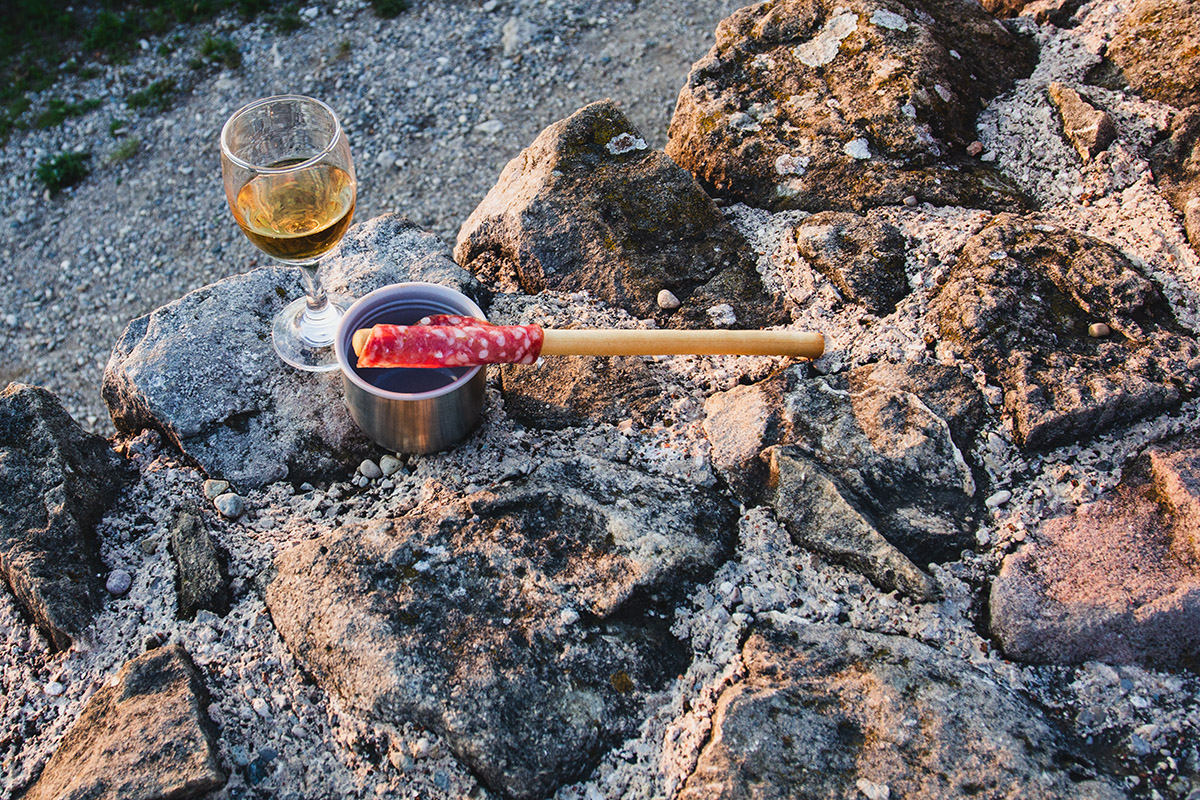 Grissini are elongated dough sticks / or bread sticks made from yeast dough that are nice and crispy. To me, they are a bit like Soletti. They are a typical invention of Italian cuisine. To be precise, the breadsticks come from Piedmont / Turin. When they were invented can no longer be determined exactly, but it must have been around the 17th century.
The royal breadsticks
Legend has it that it was invented by the baker Antonio Brunero for Vittorio Amedeo II of Savoy. Little Vittorio, who was very ailing from birth, suffered, among other things, from very painful intestinal problems. One of the foods that bothered him particularly was the soft inner bread, which is why his doctor is said to have ordered the court baker Antonio Brunero to make an alternative that was digestible but also tasty for little Vittorio Amedeo. And this is how the breadsticks were made.
However, this contradicts the fact that at least the term "Grissino" already appears in Giovanni Boccaccio's "Decamerone", around 300 years before Vittorio's health problems, and that in connection with a poor feeding on Christmas Day.

Either way - the production of the long, dried and delicious bread sticks is not laborious and you don't need a lot of ingredients: a little flour, yeast, water, salt, olive oil ... You can just bake them pure with salt in the dough or you can brings with herbs such as Add rosemary and spices a little more pep. I definitely like the variant with herbs and a good portion of pepper and garlic. We have tried countless breadsticks recipes - not only as recipes in our kitchens, but also during our travels through Italy. Today, however, I would like to introduce you to the simple recipe for breadsticks when I baked them for the first time. You can find the version of Mr.Bag as a professional here.
| | |
| --- | --- |
| | |
| 250 gr | wheat flour type 405 |
| 250 gr | whole wheat spelled flour |
| 1 packg | dry yeast |
| 275 ml | water |
| 2 TL | salt |
| 3 EL | olive oil |
| 1 TL | honey |
| | sesame |
| | poppy |
| | sea salt |
| | rosmary, thyme or other herbs |
| | |
Lucina´s tips:
The breadsticks keep in an airtight can for about 3 weeks. If they lose their crispness over time, they can simply be baked in the oven again. You can also pimp the grissini with tomato paste or grated Parmesan. If you would like to change the color of the breadsticks, you can add some turmeric or red beet juice to the batter.

I did it that way:


Put the flour, dry yeast, water, salt and olive oil and honey in a bowl and knead. Place the dough on the work surface and knead for about 10 minutes until it is smooth and elastic. Cover with a kitchen towel and let it rest for about 1.5 hours, then knead again.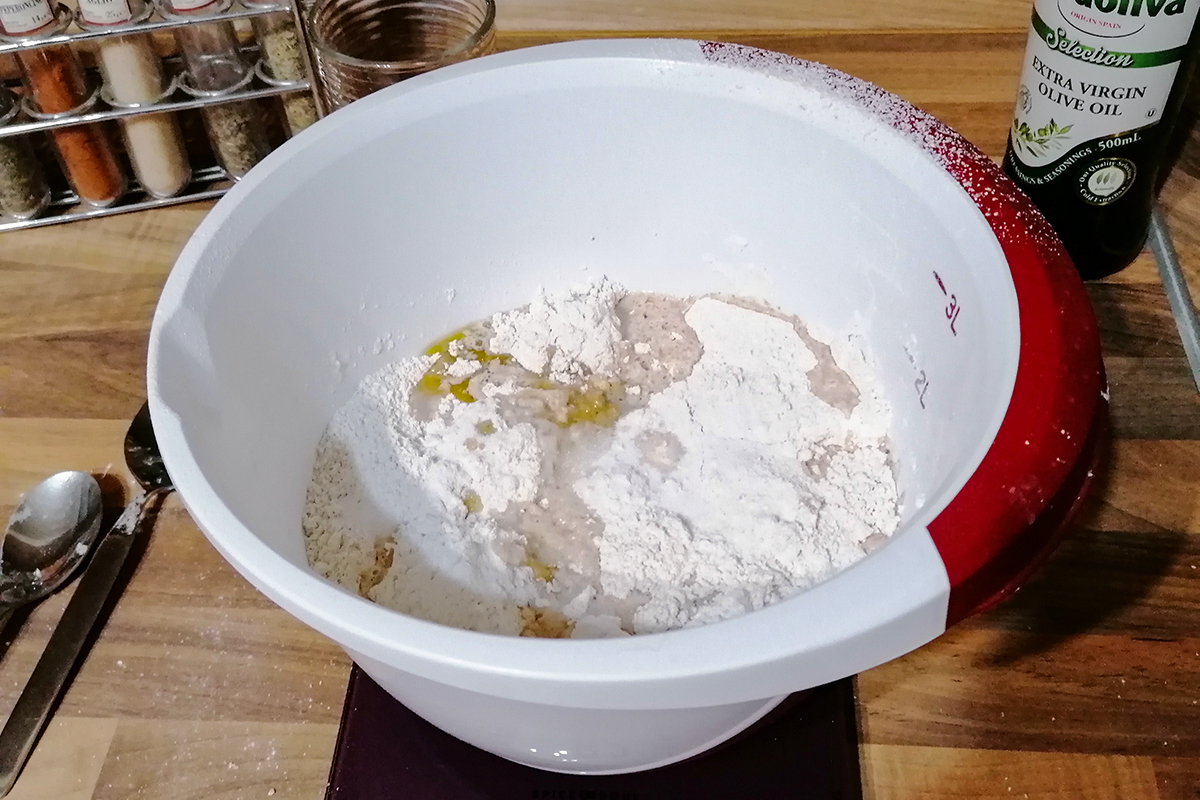 As soon as the dough has doubled (after about 1.5 - 2 hours) the breadsticks are shaped.
Preheat the oven to 180 degrees top and bottom heat. Quarter the dough and divide into equal portions / balls.
Shape these into approx. 30cm long breadsticks. For this purpose, the dough balls can be rolled or pulled around on the worktop or twisted like a cord.
The thinner the breadsticks, the crispier they will be.
Place on baking sheets lined with baking paper with a little space.

Before baking, the grissini are brushed thinly with water or olive oil and, depending on your taste, sprinkled with sea salt, sesame, rosemary, poppy seeds, garlic or pepper.

Bake in the preheated oven (lower third) for 15-20 minutes until the grissini are lightly browned.
We enjoyed this snack in the evening at sunset and our life in the Alps was sweetened with the Dolce Vita of Italy and an unforgettable culinary experience!
If you will try one of my recipes, then I look forward to your feedback - as a comment under the recipe, by e-mail (This email address is being protected from spambots. You need JavaScript enabled to view it.) or show me your photos on Instagram!
Please use the #lucinacucina or #lucinaslife and link me on the photo (@lucinaslife) so that I don't miss it. If you share the picture in a story, I'll be happy to share this experience with my community!
Have fun copying.

La vie est belle
Eure Lucina Cucina
---
Reader info & transparency: My post contains affiliate links. If I buy through an affiliate link, I receive a commission. The purchase price itself does not change for you. Orders that you place through it support me with a reimbursement of advertising costs in my work for this blog. Thank you for your kind support and appreciation!